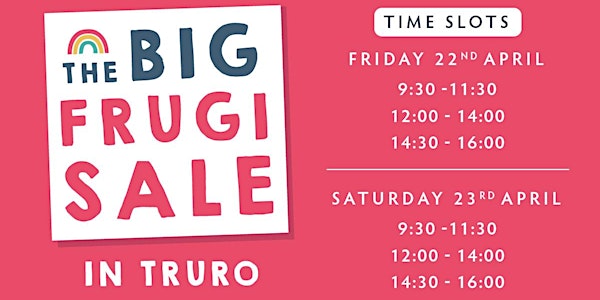 𝗧𝗶𝗰𝗸𝗲𝘁𝘀 𝗮𝗿𝗲 𝗻𝗼𝘄 𝗮𝘃𝗮𝗶𝗹𝗮𝗯𝗹𝗲 𝘁𝗼 𝗯𝘂𝘆 𝗳𝗼𝗿 𝗧𝗵𝗲 𝗕𝗶𝗴 𝗙𝗿𝘂𝗴𝗶 𝗦𝗮𝗹𝗲, 𝘁𝗮𝗸𝗶𝗻𝗴 𝗽𝗹𝗮𝗰𝗲 𝗮𝘁 𝗧𝗿𝘂𝗿𝗼 𝗦𝗰𝗵𝗼𝗼𝗹 𝗼𝗻 𝟮𝟮𝗻𝗱 𝗮𝗻𝗱 𝟮𝟯𝗿𝗱 𝗔𝗽𝗿𝗶𝗹!
Tickets are £5.00 and will be redeemable against purchases at the event when a valid ticket is shown (electronically/ printed). There is an Eventbrite service fee (0.98p) this is not redeemable.
Under 16s do not need a ticket for entry to the event.
You can expect past seasons styles, sample goodies, outerwear, accessories and so much more! We can't wait to see you all there in person!
Join us at Truro School Senior, Trennick Lane, Truro, Cornwall TR1 1TH for The Big Frugi Sale on Friday 22nd and Saturday 23rd April 2022.